Welcome to a very special place in the burgeoning North Miami (NoMi) art district: The Gypsy Tea Shop. Nestled among art galleries, lip-smacking Creole joints, boisterous West Indian Soca stores and ramshackle recording studios (that harkens back to Miami's bee-bop heyday), The Gypsy Tea Shop is at the crossroads of a neighborhood in vibrant flux.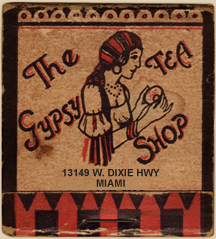 The sophisticated, world traveler, owner Geo Darder (an entrepreneur & committed humanitarian of Cuban descent) has created a significant example of what unbridled vision and elbow grease can accomplish. The Gypsy Tea Shop is both store and transcendent retreat. Boasting secret nooks and delightful communal spaces, The Gypsy Tea Shop offers tarot readings, coffee readings, a library of books, and a plethora of interesting antiques. Mr.Darder has managed to strike a chord that resonates in perfect harmony with its polyglot surroundings. "Whether antiques, collectibles, the uniquely odd or the oddly unique, I think of the place as a spiritual drug store combined with a Mom & Pop antique shop" says manager / hostess Eileen.
She continues: "Our guests come here to shop, hang out, sip tea and vibe. Herein lies the essence of of The Gypsy Tea Shop." Nodding in agreement, owner Geo Darder says" Whether looking for just the right gift, some spiritual solace, a reading, or just the place to relax and run into old or new friends....This has become the go-to place in NoMi."

Proprietors of Gypsy Tea Shop provide:



Location scouting, Permits for Film, TV & Photo productions

The Gypsy Tea Shop is Available for Events/ Locations/Private Parties
The neighborhood is an ideal site for fashion shoots,commercial, editorial and movie locations...

Caribbean,Latin/Haitian Main Street, Urban international neighborhood, old music studios,
Moca Museum, Miami Vice Theater... 50-60's Mediterranean residential.